Live the Life You Love at Westminster Village
Picturesque and Scenic Retirement Community in Spanish Fort, AL
At Westminster Village in Spanish Fort, AL, you'll discover a maintenance-free lifestyle and the opportunity to engage in new activities, meet new friends and venture into the local coastal community. Spanish Fort is considered one of the Alabama Gulf Coast's best-kept secrets! Located on the charming Eastern Shore of Mobile Bay, only minutes away from Mobile, Daphne and Fairhope, AL, experience the lively repartee and the laughter among those who live here. Westminster Village has a bond among its residents that is special. It's one that instantly feels like family and helps Westminster Village feel like home.
Discover a Life Well Lived with Acts
AN EXPANSIVE COMMUNITY CLOSE TO SO MUCH
Spanish Fort is a beautiful coastal town off the Eastern Shore of Mobile Bay. Locals enjoy the best of many worlds located between the sandy Gulf Shores and the bustling city of Mobile, all while still maintaining a small-town, rural vibe.
As its name suggests, Spanish Fort maintains a rich history dating back to the 18th century and the Anglo-Spanish War. More recently, Spanish Fort has seen economic growth from the Eastern Shore Centre – an open-air regional shopping complex with many well-known stores.
Approximately 42 percent of Spanish Fort's population is over the age of 45, so naturally there are plenty of resources catering to seniors. In these uncertain times, it's as important as ever to plan for life after leaving the workforce.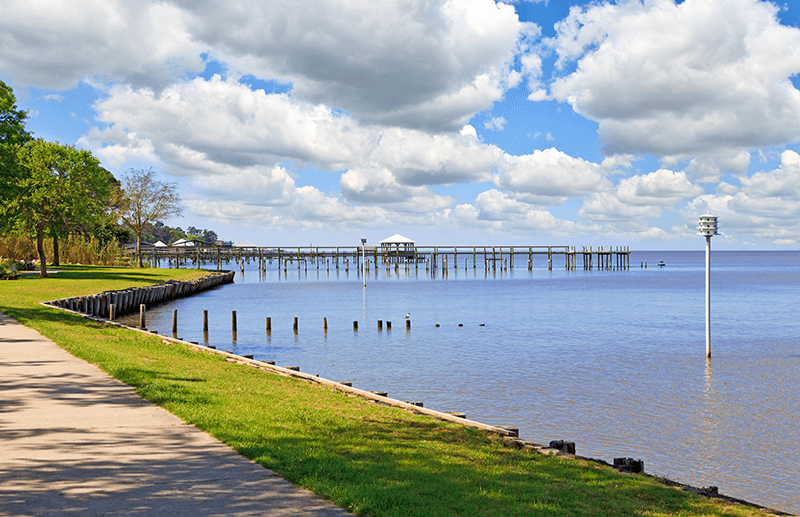 DINING, AMENITIES AND MORE
Westminster Village offers active adult amenities such as a fitness center with on-site trainers, an indoor swimming pool, putting green, and scenic walking trails. Residents looking for some relaxation can visit the art studio, beauty salon, game/billiard room, or library with a reading room. The best part of retiring at Westminster Village is that all these amenities, plus many more, are included in your stay and readily available. Whether engaging with the many on-site amenities or venturing off campus to many shopping districts and restaurants, there is never a dull day in Spanish Fort.
The community has also completed construction on the new Bayside Club - a beautiful building boasting: a game room with ping pong and billiards; a card room with a poker table and open seating for private games; multiple covered outdoor patios, shared kitchen, dining, and entertaining spaces; wet bar, reading nooks and private lounges.
POTENTIAL TAX SAVINGS
If you qualify to itemize medical expenses, a portion of your entrance fee and monthly fees are tax deductible. Recently, the deductible amount of these fees has averaged 40%. This can represent a significant savings in taxes, which could make an Acts Retirement-Life Community a smart choice for you now and in the future.
TAKE THE NEXT STEP TOWARD LIVING LIFE AND LOOKING AHEAD
If you think Westminster Village may be a good fit for you, then complete the form and your personal Life Care Consultant will contact you to answer your questions and to discuss the many benefits of moving to this Acts Retirement-Life Community.