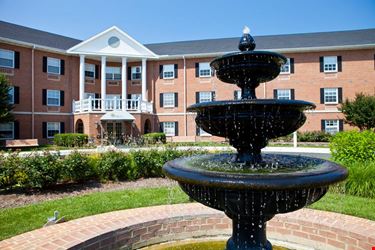 Peace of Mind, Joy of Living
It's time to re-imagine your retirement. At Bayleigh Chase, the options of a vibrant retirement are so limitless, you'll follow your own path.
Discover more about the joys and peace of mind of living at Bayleigh Chase. Fill out the form below, and we'll send a free pricing and information kit.
What is a Continuing Care Retirement Community?
Featured at Bayleigh Chase
Choice of cottage and villa homes and residential apartments
Indoor social spaces such as hobby rooms, reception hall and computer areas
Both casual and formal dining options
Fitness center with professional trainer and classes available on campus
Planned social, cultural, recreational and spiritual activities
Lifelong learning opportunities
Transportation to appointments, social events and more
Full-time, non-denominational Chaplain
Entertainment such as movies and concerts
A pet-friendly campus
The allure of the Eastern Shore in Easton, MD
Located in the historic town of Easton, MD on the state's Eastern Shore, Bayleigh Chase is set against the backdrop of a richly landscaped 35-acre campus, our apartment homes and spacious cottages and villas provide the perfect home from which to enjoy the carefree living of the Eastern Shore. Bayleigh Chase offers a lifestyle of flexibility and choice that provides each resident with new opportunities to pursue their passions and enrich their life. Easton is consistently ranked one of the Best Small Towns in America. With its golf courses, hiking and biking trails and parks it is an inviting and active town. It offers a wide variety of art galleries, local shopping and restaurants along with entertainment including the historic Avalon Theatre. Golf courses, parks and walking/biking trails keep residents active.
Secure, peace of mind for your future
Bayleigh Chase offers Acts' Type A Life Care Contract. This safeguards their financial security as they get older.